Industrial
Internet of Things
IIoT
What are your challenges?
Do you develop applications for the Internet of Things?
Do you find that your sensors or radio technology have communication problems?
What is the current radio network quality and coverage, e.g. for modern sensor networks?
User groups & applications
Car and traffic

Fleet management

Security

Alarm systems, smoke detectors, access control systems

Smart cities

Transport & traffic, light management, parking systems, battery charging functions, car sharing

Industry

Preventive maintenance, goods flow management, distribution systems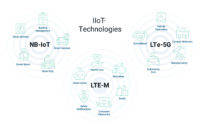 Capture, record and evaluate NB-IoT or LTE-M radio cell signals with the S.E.A. measuring devices
Determination of radio coverage and reception situation of different providers and technologies
Combined display of sensor data with geocoordinates on maps
Provider and cell statistics for comparative measurements
Determination of cell spreading and cell shape
Determination of reception quality at sensor mounting locations
What do you need for your own IIoT application?
Do not rely on market availability
For the simple connection of industrial sensors or signals, we offer standardized gateway modules. Based on this, we are also happy to create your communication product or a customized solution for you.
SEA 3910 IOT Gateway
LTE-M and NB-IoT data connectivity
Galvanically isolated analogue inputs 0-20/4-20mA/0-10V
Galvanically isolated digital inputs (IEC61131-2 type 3)
Galvanically isolated digital outputs (0-32 V, 0.5 A)
Serial interface/UART for external devices
Power supply 12-24VDC or also 5V DC via USB-C
SMA connector for rod antenna or remote magnetic base antenna
Simple top-hat rail mounting
Simple configuration via QR code
SpaceMaster® software for your IIoT solution
Fast realization of IIoT solutions on platform concept for your own solution.
Software for long-term acquisition, storage, and analysis of measurement and sensor data.
Powerful client/server solution with plugins for map-related display
Mixed display of live data and offline imported data
Client-side customization of calculations and derived values
Web-based dashboards for quick look display of trend and diagnostic data
Please contact us regarding your application
Your application is not listed or do you have questions about a product solution?
Contact us. We will get back to you as soon as possible.