CompactRIO
Modules for the NI CompactRIO platform
Extend your NI CompactRIO platform with wireless communications, GNSS positioning/timing, digital precision positioning, and more.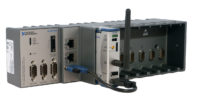 What is CompactRIO?
CompactRIO is a modular, compact, robust and open measurement system from NI, consisting of a real-time computer and a chassis for holding function modules, the so-called cRIO modules. Depending on the model, the chassis can accommodate 4 or 8 cRIO modules and has an FPGA (Field Programmable Gate Array). Further information on CompactRIO can be found on the NI website.
In addition to CompactRIO, there is also the NI CompactDAQ platform. This platform can only be used to a limited extent and only with specific S.E.A. modules.
What does S.E.A. offer for CompactRIO?
We offer so-called Third-Party cRIO modules. These provide various technologies and thus help to extend the platform with a variety of capabilities.
In addition to the already existing modules, we can develop modules on customer request.
Feature Comparison for Mobile Communication/GNSS Modules
Do you want to find the right module for mobile communication / geo-positioning? This table can help you as a selection guide.
| Feature | SEA 9405 | 9410 | SEA 9406 | SEA 9744 / 9745 |
| --- | --- | --- | --- | --- |
| Mobile Communication Standards | no | no | no | 2G, 3G, 4G |
| GNSS Standards | GPS | GPS | GPS, GLONASS, Galileo, BeiDou | GPS |
| GNSS Position Accuracy | 2.5m CEP | 2.5m CEP | 0.2m (w/ RTK) and 1.5m CEP (w/o RTK) | 2.5m CEP |
| GNSS Corrections Support | no | no | Standard-RTCM Corrections via Network-RTK (NTRIP) | no |
| GNSS Update Rate | 4 Hz | 10 Hz | 20 Hz | 4 Hz |
| Fast GNSS-Fix-Time | yes | yes | yes | yes |
| Configurable Timepulse Signal | yes | yes | yes | yes |
| Extended Temperature Range | no | no | Option | no |
| Integrated IMU-Sensor | no | no | Option | no |
| Notes | Not for new designs | Not for new designs | New in 2022! | 9744: worldwide excl. USA and Japan, 9745: USA (AT&T, T-Mobile) |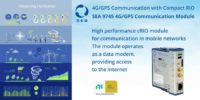 What do
customers say?
We have 48 S.E.A. 4G modules that we use to transmit real-time data from portable weather stations that are deployed into severe thunderstorms and hurricanes for research and informative purposes. In particular, the hurricane application benefits both the public and private sectors as in many cases our weather observations are among the only observations available in the most impacted areas of hurricane landfalls. We are very satisfied with the 4G/GPS Communications modules we have received. They have been very reliable, work great and the support has been fantastic as well.
Brian Hirth, Ph.D. Research Professor,
National Wind Institute, Texas Tech University
We use SEA 9811 ARINC 429 modules in two different products for testing fuel systems of aircrafts. Each product utilizes a NI CompactRIO platform, which in turn, hosts SEA 9811 modules. One platform uses 3 SEA 9811 modules, the other one is equipped with 1 SEA 9811 module.
SEA 9811 ARINC 429 modules have proven themselves well in our application and the support has always been helpful.
Alejandro Moreno Martín, Development Engineer,
TEMAI Ingenieros, Spain
Typical Areas of Application
Some examples for using our cRIO modules.



Interested?
Get to know our cRIO product portfolio.
Download free driver software from our download page
Directly to the download center
After installation, a selection of LabVIEW examples is available. You do not need any hardware for this. Only an NI LabVIEW development environment including corresponding software modules (Real-Time and FPGA) is required.