Cities
and municipalities
MONITOR / MEASURE  NETWORK  COVERAGE
No network coverage?
Interested in mobile coverage in your community or county?
Are you planning to expand an industrial area?
Are you having trouble reaching your remote control systems?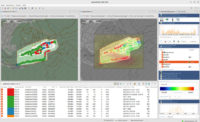 Drive Tests
Simply test the quality of mobile coverage for yourself.
Our low-cost mobile radio test systems can travel in vehicles. They automatically provide an up-to-date overview of cellular or WLAN coverage in the area being driven through.
Easy-to-use software tools display the coverage gaps of individual providers in color on a map. Private mobile networks on company premises and industrial plants can be continuously measured and monitored by our systems.

Please contact us for your application
Is your application not listed, or do you have questions about a product solution?
Contact us. We will get back to you as soon as possible.